I love bookstores. I feel like that is probably already quite clear, as this blog is, indeed, dedicated to all things bookish, but I felt it was important to stress the extent to which I love bookstores. Because I really, really, really, love bookstores. Whenever I go anywhere, I make sure that I know at least a bookstore in the area, and I make a point of going there. My favorite thing is to come away with a new book, bookmark and tote bag (honestly I find this combination to be the most perfect souvenir). With that in mind, I thought about a couple of my favorite bookstores, and I felt that it was important to share them on this platform, as my very first blog post. I am not limiting myself to a specific town - San Francisco is great, and certainly worthy of a lengthy exploration, but my heart belongs to Berkeley, and I would be remiss if I failed to include some other little gems I have happened upon around the Bay Area. If you happen to find yourself in the area, I would highly suggesting touring some of the great bookstores I have listed below, as well as do some of your own exploring! There are some great little shops that I have not included but are definitely worth a visit.
1. City Lights Booksellers.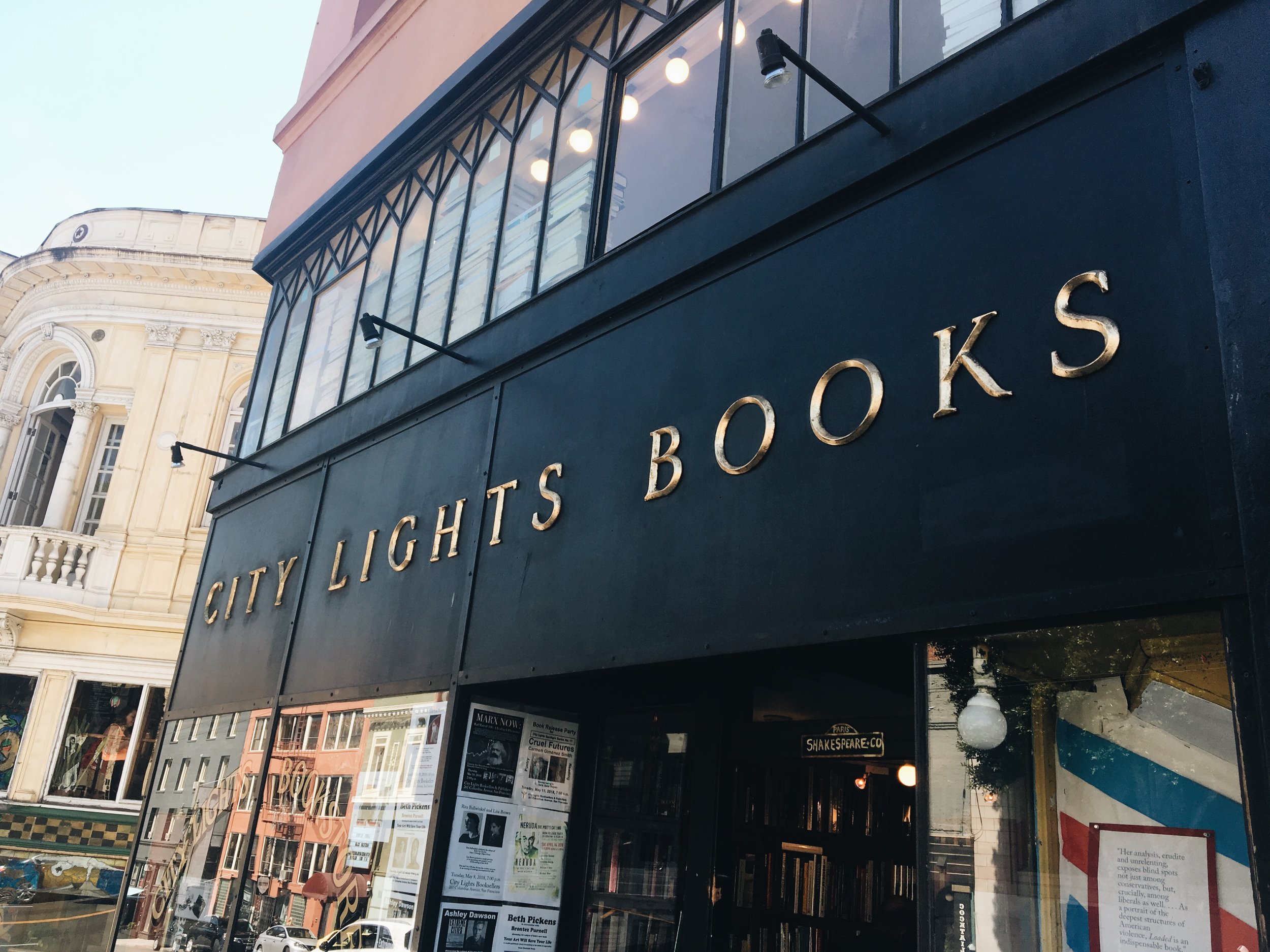 City Lights is one of those must-see bookstores for a reason. Home to the Beat Poets, it deserves a spot on every book lover's bookish bucket list. I usually describe it as being "The Shakespeare and Co. of San Francisco" or "The Strand of San Francisco" or "The Powell's of San Francisco" ... you get the gist. It is the famous bookstore of the Bay Area, and it is a beautiful one, nestled in a really great neighborhood.
2. Mrs. Dalloway's
Mrs. Dalloway's is probably my personal favorite on this list - I looove the Virginia Woolf quote on the wall, I love the selection, I love that it is attached to the cutest cafe, and I LOVE above all that I just got hired there (!!!).
3. Pegasus (College Ave, Shattuck Ave, Solano Ave)
Pegasus (all locations included) is a staple of the East Bay, and is probably the bookstore (that is still around) that I would reference as being my Childhood Bookstore. I remember going to the Solano location all my life, and the other two locations, simply due to their locations being now closer to my typical haunts, are two of the bookstores I regularly frequent.
4. East Bay Booksellers
East Bay Booksellers is a more recent favorite, but it's a great one. Its just across the street from one of the Pegasus's (Pegusi? Pegasuses?) and near some great cafes. I also really love everyone that works here.
5. Walden Pond Books
Walden Pond Books is just such a pretty bookstore, filled with some gems. It is definitely a great one to wander through after a delicious dinner, and just get lost between the stacks. I often end up here late into the evening, and wander through the aisles until I get kicked out.
6. Stinson Beach Books
This bookstore is just ADORABLE. It is in the sweetest little beach town, and as a result it is one of my favorites. It's got a great selection, and is in a really cute little building that feels super beachy in all of the best ways.
7. Point Reyes Books
The Point Reyes Bookstore has some beautiful new murals decorating the walls, really great book art installations (as seen in this glorious picture) and is a favorite in large part because of the little town it is in. It's just charming and sweet and I love it.